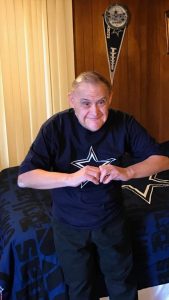 Ricardo was born an innocent Down syndrome child in the 50s,
With an ever present smile, and a sweet personality.
He had his own language in which he would speak,
Giving you your own special name that only he could bestow,
Making him so special, and even more unique.
Ricardo was unspoiled from the world's evil,
With all his innocence, the family's "true joy".
Nothing but love in his heart tenfold.
He was our brother, our cousin, our blood,
A truly one of kind special man, He was our family's gold.
Of course as little kids we could not pronounce Ricardo,
So we all lovingly called him "Cayo".
Until we see you again one glorious day, Cayo!
Your cousin,
"Woowee" – Bobby Collazo
3/18/2020