The First Ever Straight Jacket Award
There is something about finding out that your child has won an award that just gets proud parents reeling.  Of course, to me, the first image that pops into my head, is that you are so proud.  The second image are flashbacks of all his awards won throughout his life, i.e. in grade school bringing home "A"s on his report card, little pasted stars on his assignment that he would show us, etc.; even awards won later in life.
But we are especially proud of the award won by our Son, Robert Collazo, III, System Operations Manager for Rackspace Cloud Sites, this week.  I don't know if it's because all throughout his life he has been an overachiever, a sort of person that not only gives to his work more than humanly possible, basically being fanatical about it.  Whether, it was going to work sick, tired, whatever obstacle he had, he got his work mission accomplished, no matter the price.  However,  we never expected that he would actually ever get an award for being that way.
This past week, Robert actually won an award was for being just that… fanatical about working!  It's a very prestigious award, awarded to only select individuals out of 2000+ employees at Rackspace.  Robert won this month's Straight jacket – the first Racker to win at the Rackspace Cloud.  I am inserting the photo and comments of the award ceremony that represented the fanatical award for going above and beyond what a normal employee does.
I am attaching a link to the Rackspace Awards Ceremony webpost here: http://blog.mosso.com/2009/07/and-the-straightjacket-goes-to-drum-roll-please/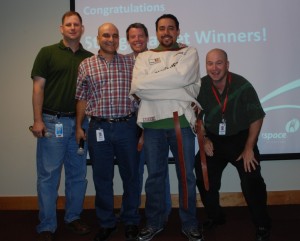 From the left: Greg Hrncir, Emil Sayegh, Lew Moorman, Robert Collazo, Lanham Napier .
Robert Collazo was nominated by Greg Hrncir, Director of Systems Operations for Cloud Sites, and Emil Sayegh, GM of the Rackspace Cloud. Greg quotes:
"Robert has consistently gone above and beyond his job and any other expectations to deliver Fanatical Support for Rackspace Cloud customers.  His knowledge of the environment and his strong passion for delivering customer service has made him stand out as a Fanatical Racker on the Rackspace Cloud team."

Emil also comments on his award:

Robert's team directly manages all the server systems behind Rackpsace Cloud Sites. Although they do not directly interact with customers, Robert does not hesitate to jump on a phone call with a customer. He is also very active on Twitter, always helping out where he can. People notice and don't shy away from commenting on his helpfulness.

"Robert is the ultimate Racker, and the embodiment of the cloud so it is justice for him to be the first Cloud Racker to win the award. He works like the cloud works – 24/7, without care or concern for anythng but delivering outstandinng customer experiences.  Robert has directly served some of our widely-recognized marquis customers but that is NOT why he wins this award today – he wins it for the countless small websites he helps every day.  The ones we NEVER hear about and we don't hear about them because Robert takes care of them."
Congratulations, Son…we are so very proud!
Robert Collazo, 7/18/09.